James Doran-Webb
Profile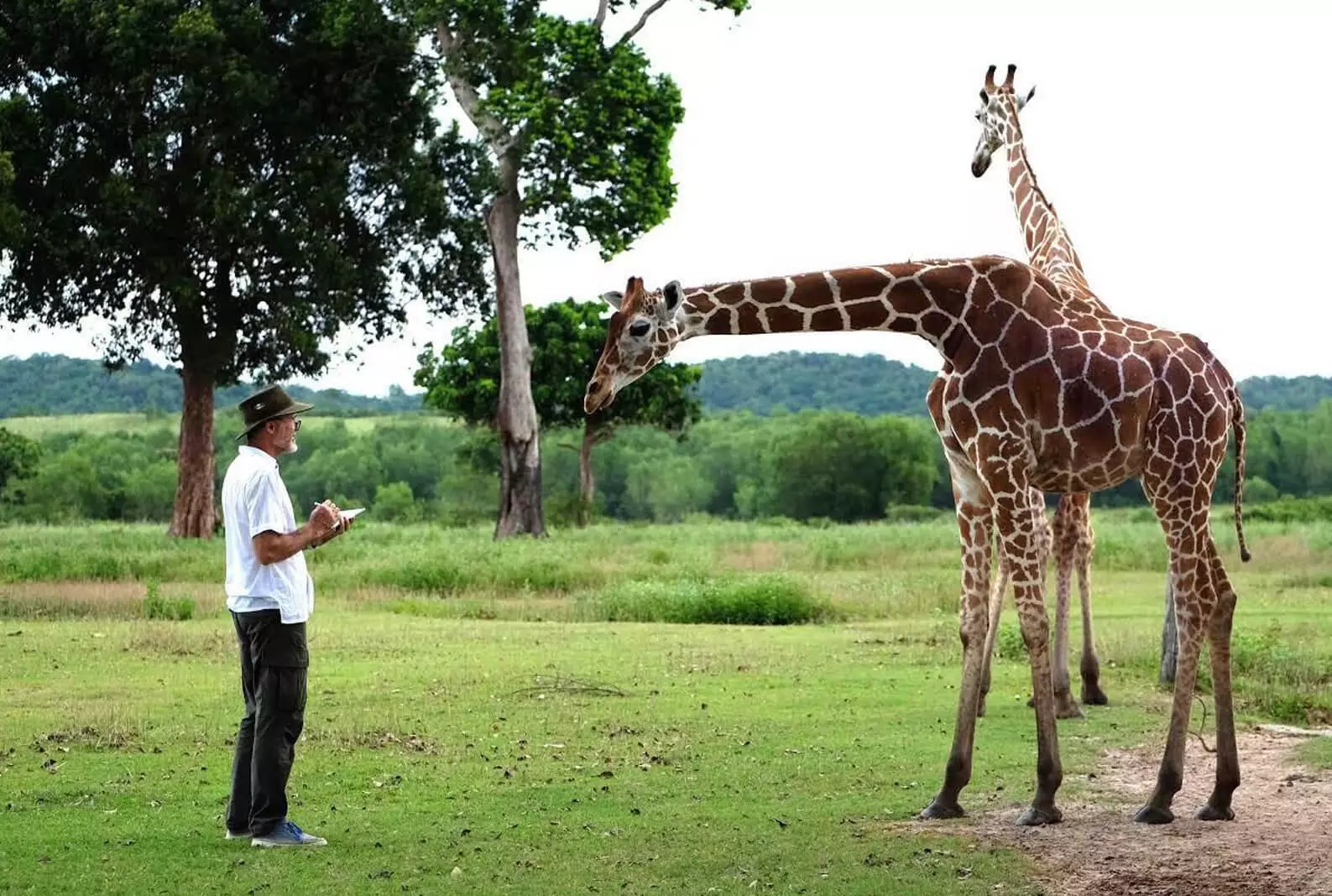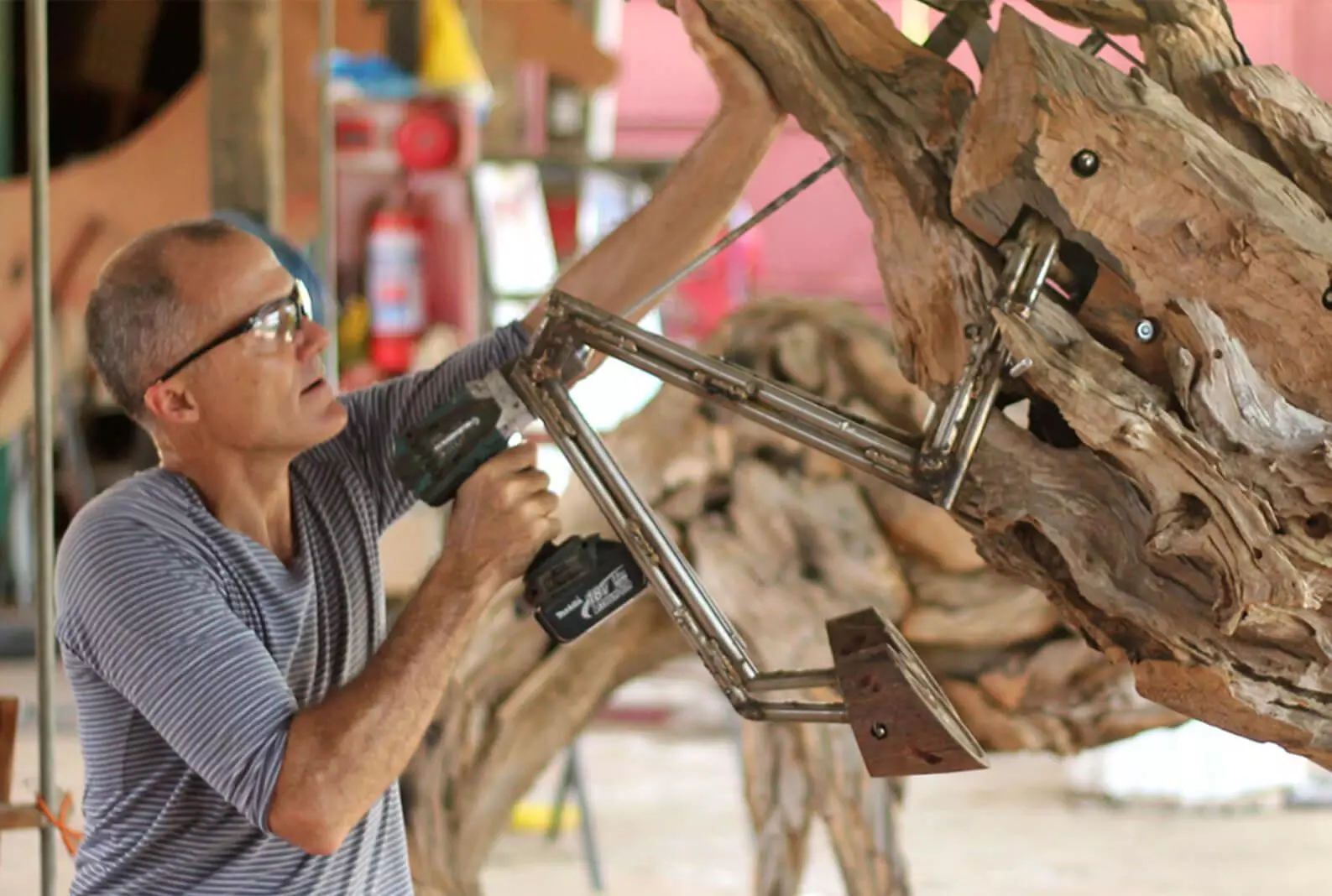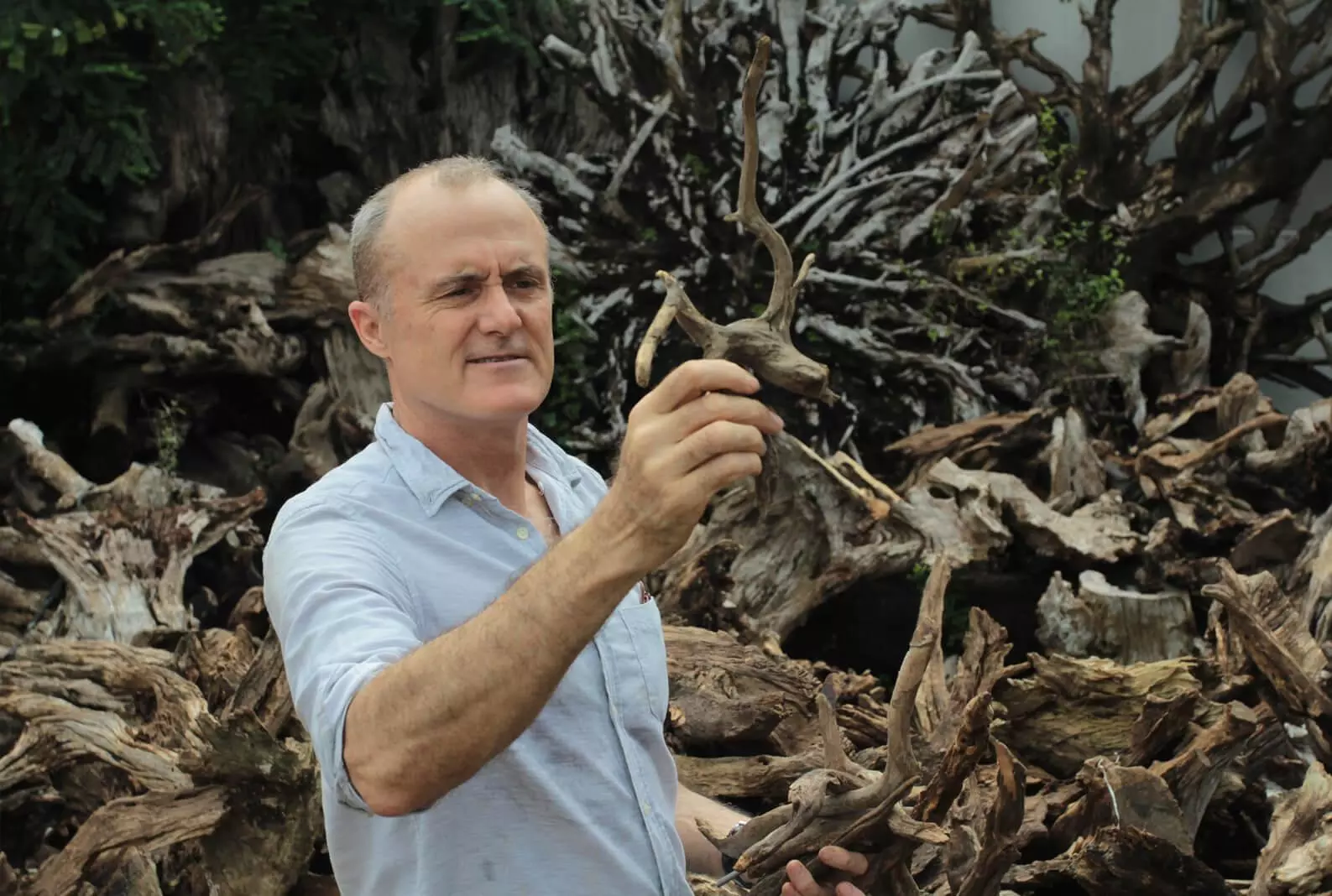 James is one of the world's leading driftwood animal artists and is unique among his peers in his ability to make monumental sculptures of long dead wood that will stand the test of time and the elements. His public work can be seen throughout the world both outdoors in highly exposed areas and indoors in the world's best-known Botanical gardens.
He has made monumental sculptures for some of the most respected construction companies in the world, Candy and Candy of the UK, Vanke of China and Primary Structures of the Philippines to name but a few. The structural integrity of his larger work is validated with structural plans and engineering calculations.
James spent his early childhood in Devon. He attended St. Andrews Prep School, near Reading in Berkshire, as a boarder, and passed his common entrance exam aged twelve. His education was as privileged as it was unconventional. His parents travelled extensively in the pursuit of art and antiques, and James spent his teenage years schooling in Basel, Switzerland, on the Adriatic coast of Italy, on the East coast of the States and central France before returning to London to take his 'A' levels at Davies Laing and Dick, Notting Hill Gate. Plans to study History of Art at The Courtold Institute in London were shelved; while attending Davies, Laing and Dick he had started his own antiques business with a weekend stand at Portobello Market in London. The exhiliration of being self sufficient with a large chunk of cash in his pocket every Sunday afternoon made college seem unattractive by comparison!
He has always loved antiques and has been working with wood, making models and miniature sculptures since he was a small boy. His childhood was spent in the workshops of his parents' antiques restoration company both in the UK and France, whittling, carving and refinishing. By the time he reached his late teens he was not only an accomplished antique dealer but also a very competent cabinet maker, and was quite at home restoring such varied items as heavily carved oak and walnut furniture to the odd Queen Anne finely veneered bureau bookcase.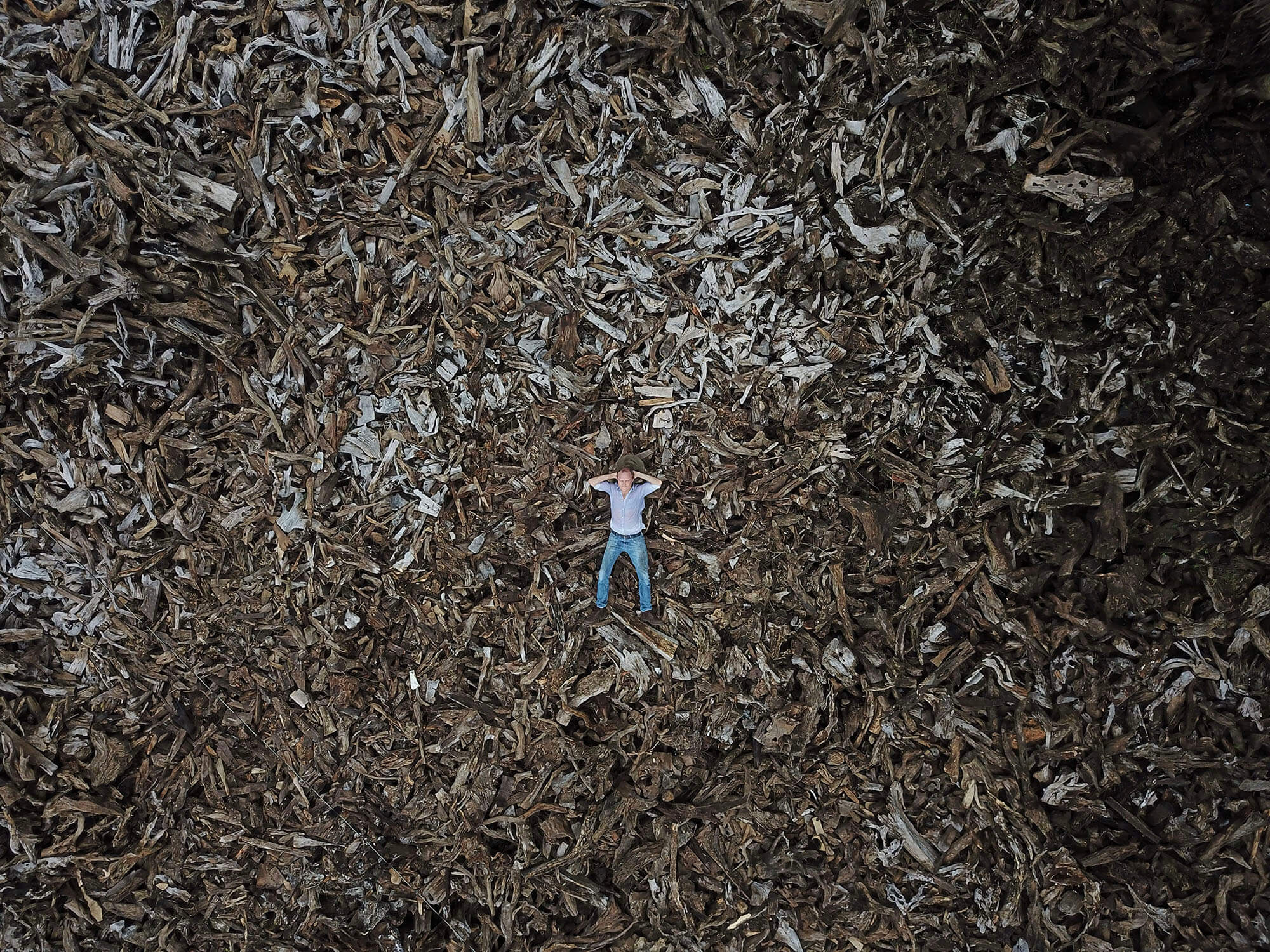 He first travelled to the Philippines in 1989 assisting a friend with his costume jewellery business. He was entranced by the countryside, the wildlife and above all by the local people with their natural flair for colour and artistry. In 1990 he set up a company designing and making a range of home accessories and functional art to sell in Europe and the USA. In his workshop he made animal mobiles from wood, shell and metal, boxes and picture frames from a variety of discarded and natural materials, large papier mâché animals, fine furniture made from wood salvaged from old demolished hardwood houses and much more aside! In the early 2,000's he made his first driftwood horse!
James is an avid outdoor enthusiast, mountain biking, hiking and kayaking in the remotest parts of the Philippines. During his "Adventure-Racing" days, he was a well-known local sportsman, twice an "Iron man" with many regional Adventure Racing titles under his belt. He has extensive local knowledge of most of the larger islands that make up the archipelago. Through such activities and travels he has built up a small network of driftwood gatherers who provide much needed cash to impoverished provincial villages. For every kilo of driftwood that James uses in his sculptures he plants a seedling on denuded hills in North and South Cebu. He has started a program called 80,000 trees which aims to plant 80,000 trees over the course of the next 15 years while building strong relationships with the local stakeholders and DENR (Department of Environment and Natural Resources) to assist him in nurturing the seedlings to full growth. Please check the "Community Projects" page to find more information about the many charitable institutions which he supports and organises.
James exhibits at the iconic Chelsea Flower Show, London each May. In 2013 and 2017 he was awarded the coveted Award for the Best Stand. His display is a prime attraction amongst the world famous show gardens with spectators lining the exhibit 6 deep to appreciate his sculptures.
Following are a sampling of his Public works;
Thacher School, United States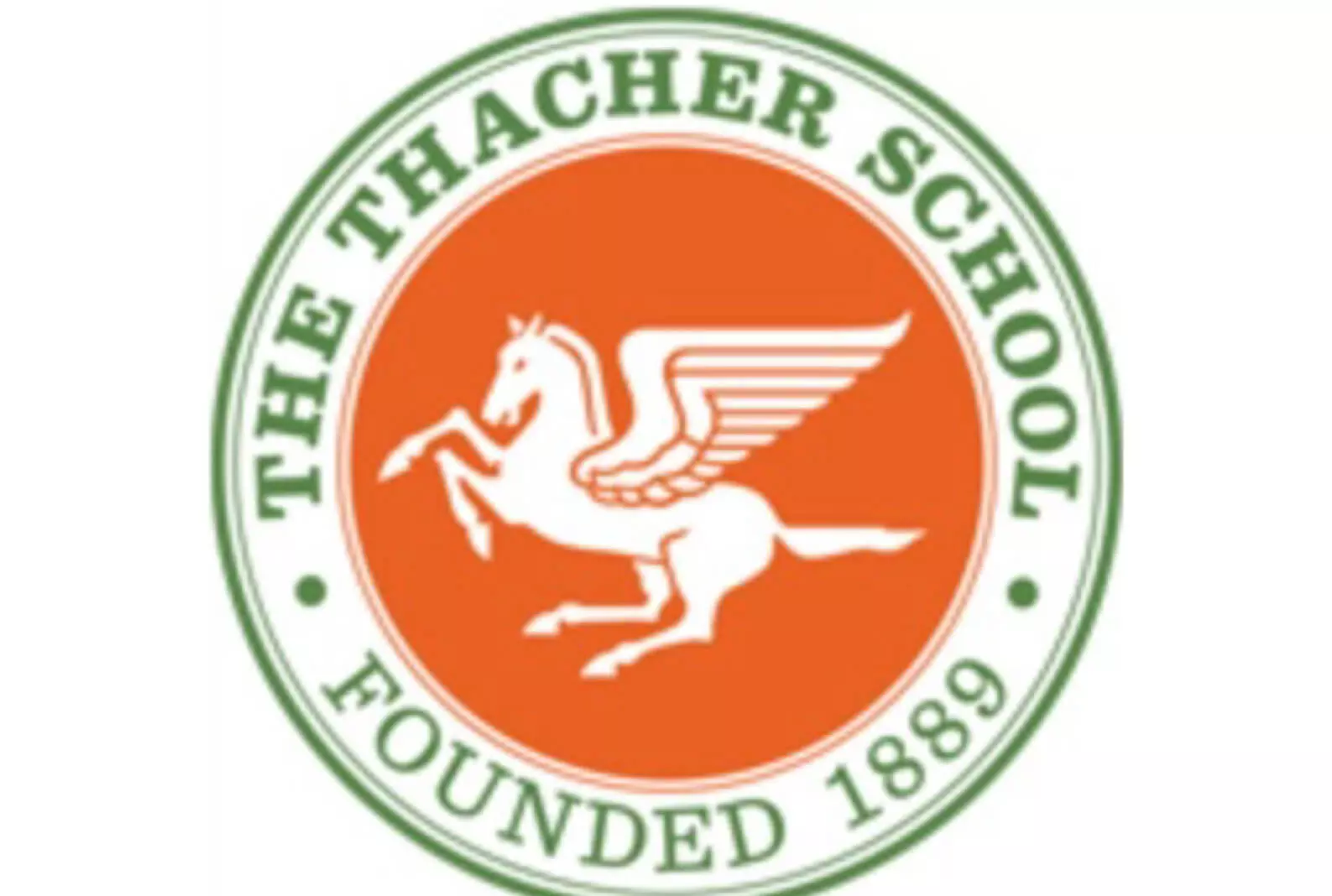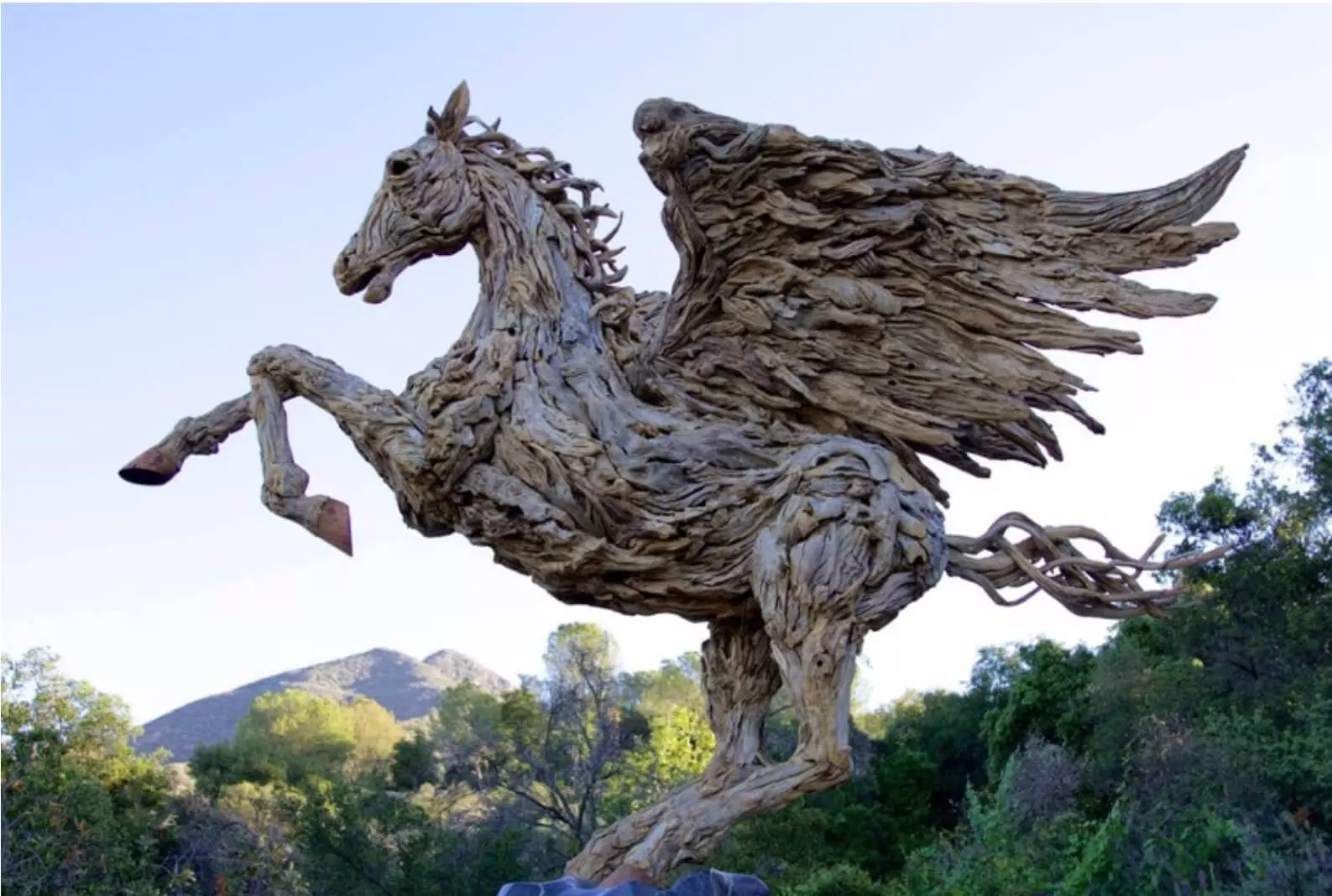 The Thacher School is the oldest and almost certainly the most prestigious boarding school in California boasting a glittering alumni. James was selected in 2015 to make a sculpture in the form of their logo, and built a 4 ton 5m high driftwood Pegasus that overlooks the athletic grounds and the beautiful hills of the Ojai valley.
Gardens by the Bay, Singapore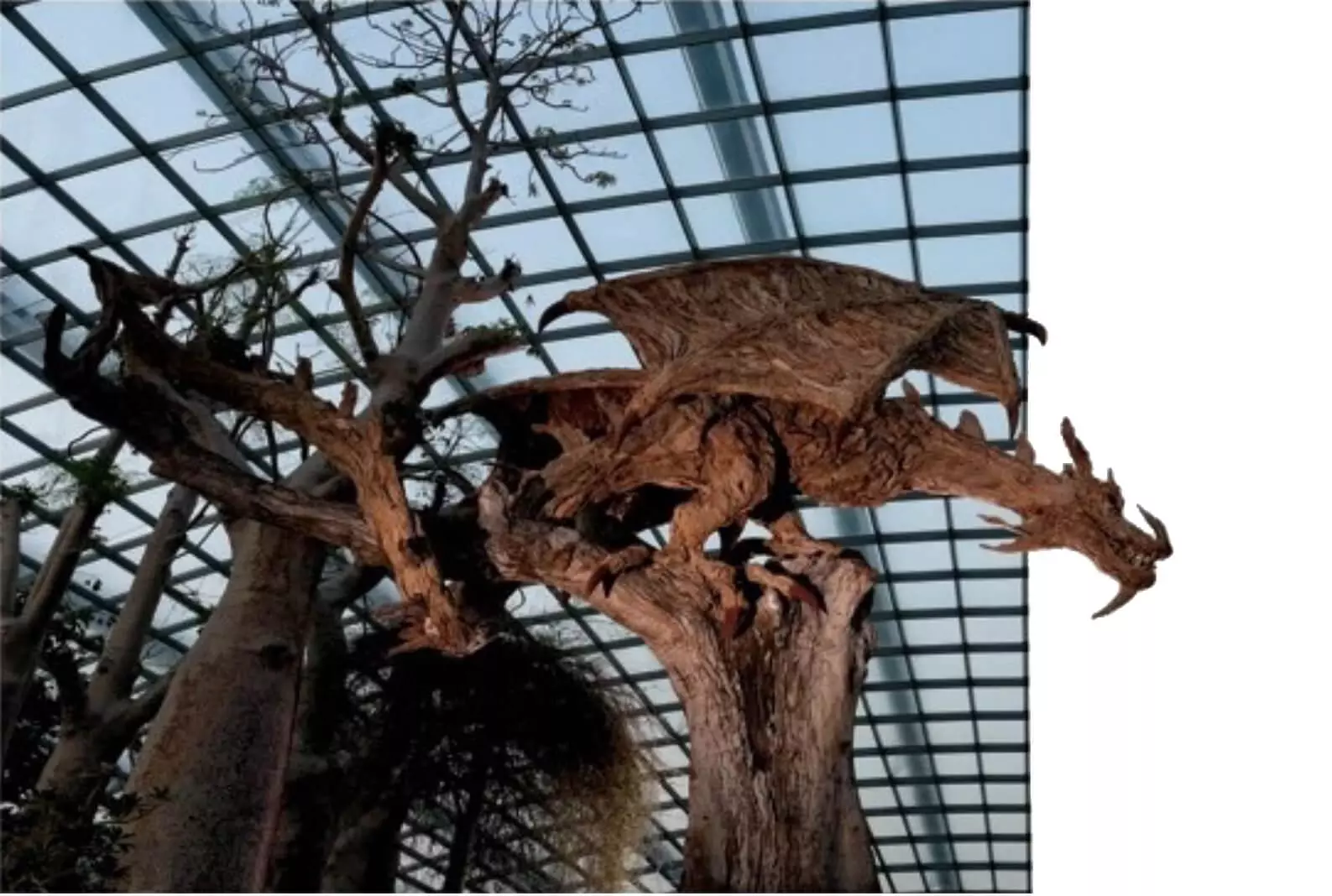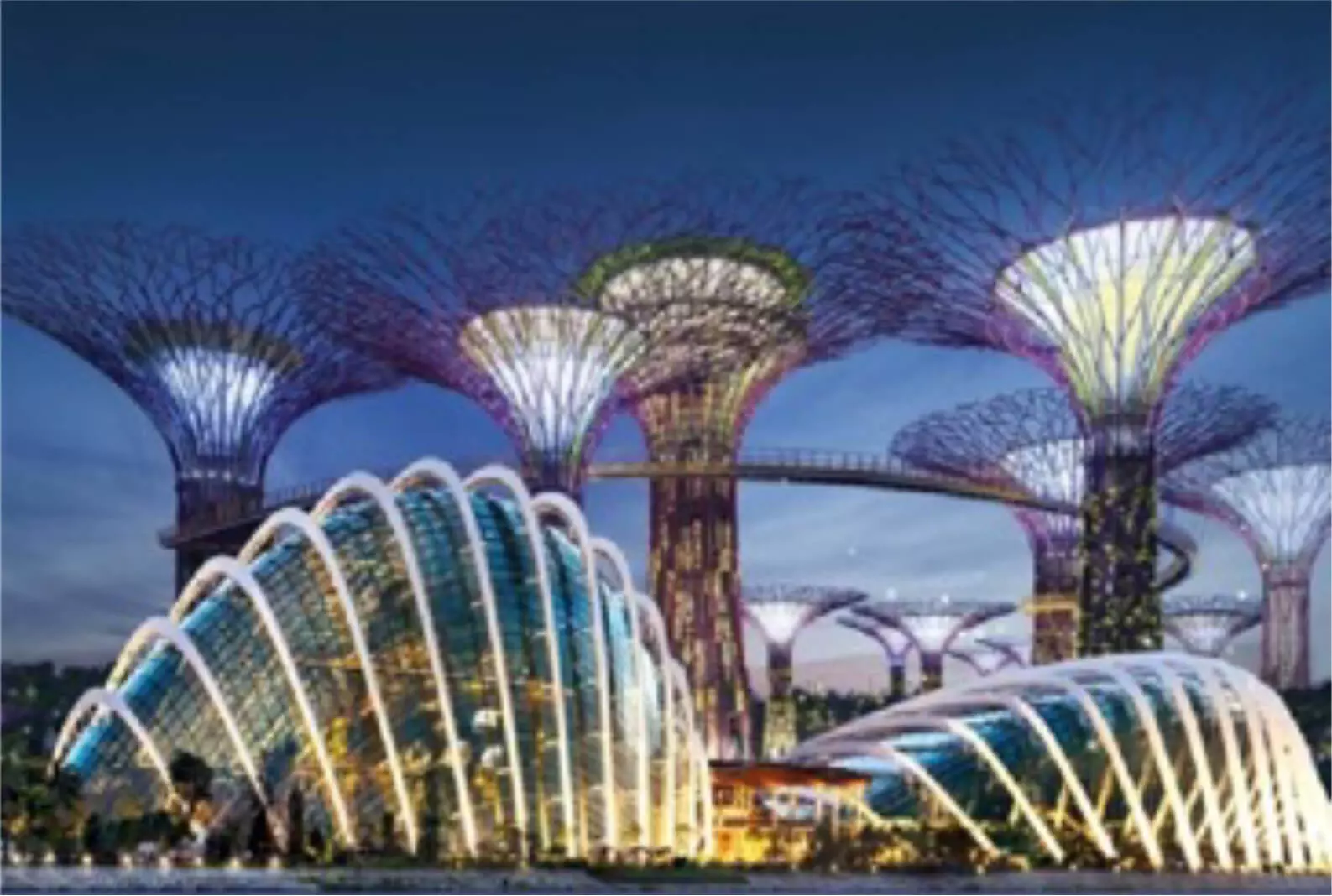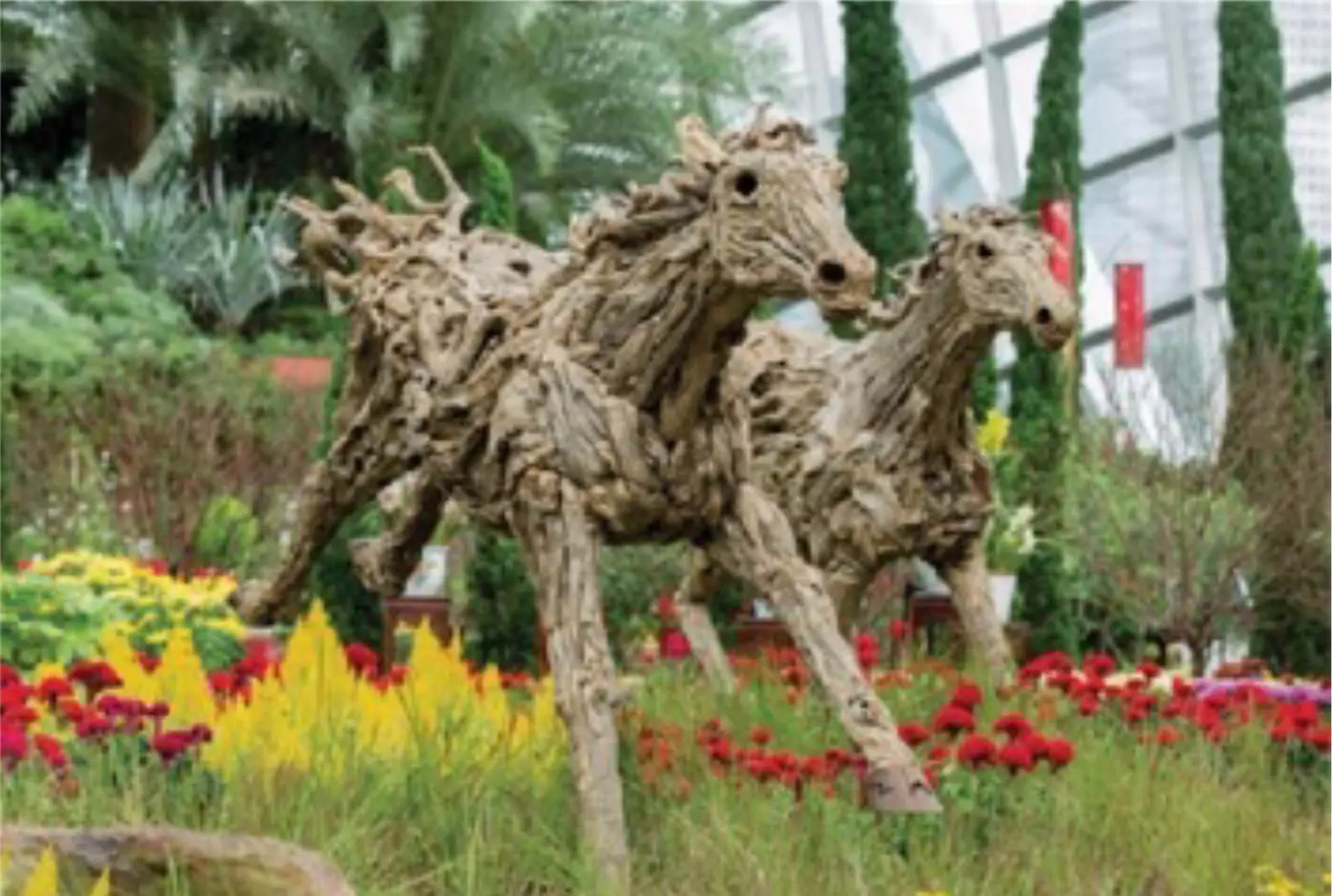 Gardens by the Bay Is now the most popular tourist attraction in Singapore attracting over 12 million visitors annually.
James' relationship with GBTB started in 2013 when he was commissioned to make 3 life-size thoroughbreds to celebrate the wooden year of the horse. Since that time they have added to their collection and now have over 48 sculptures of James'. The largest sculpture that they have is the Guardian of the Baobabs, a 7m high 5-ton sculpture of a Dragon in a tree. The project took James over a year to complete.
Harleyford Golf Course, United Kingdom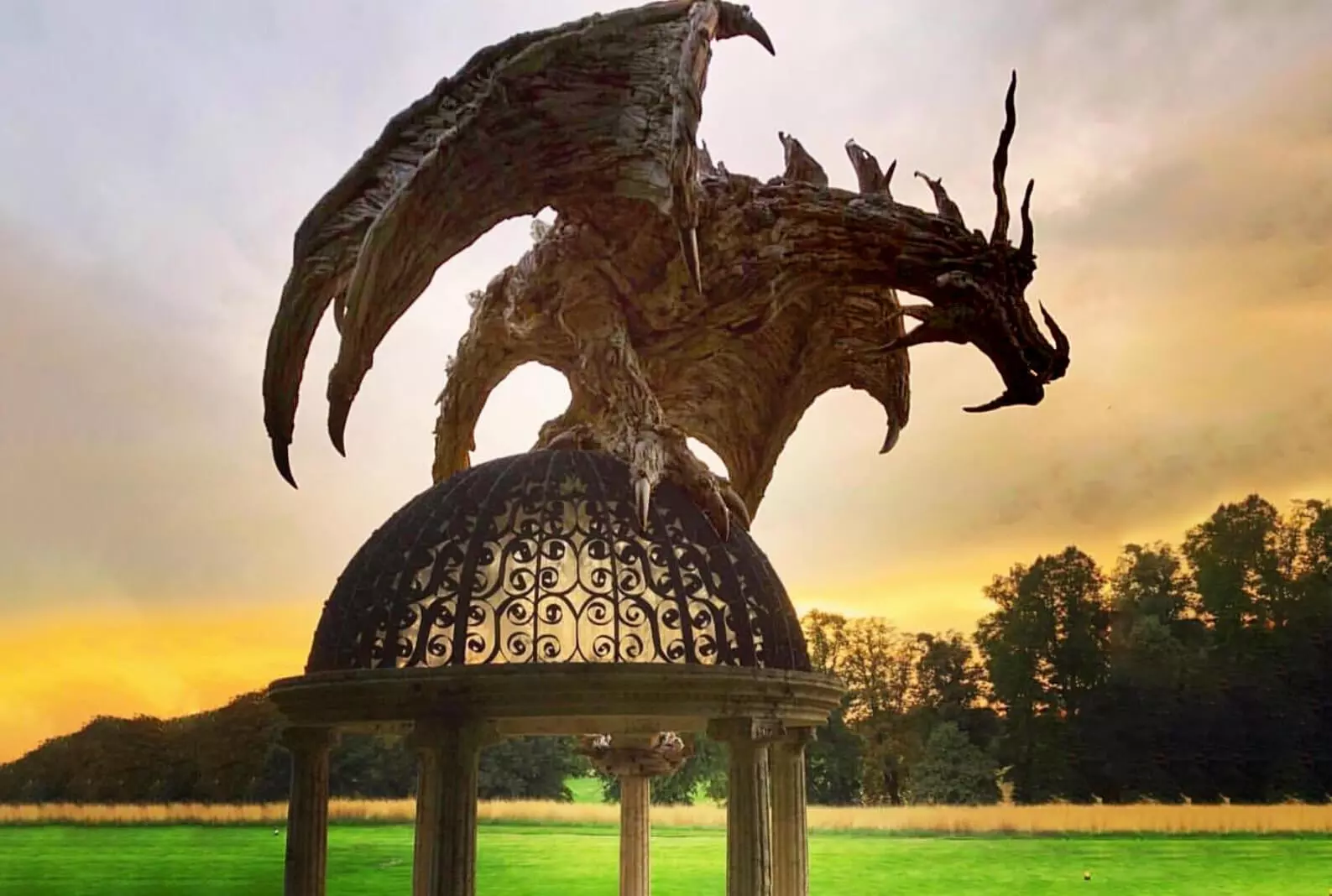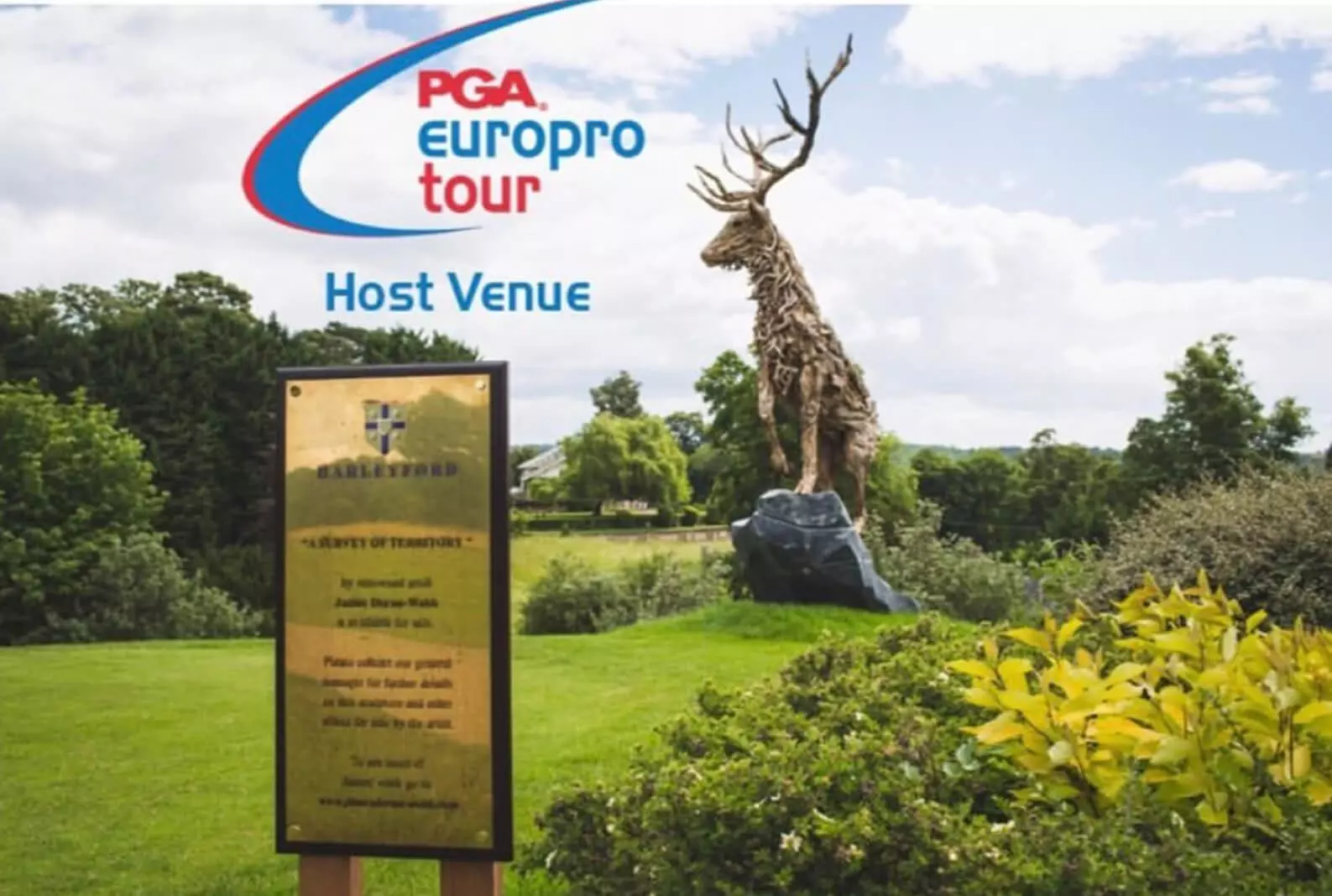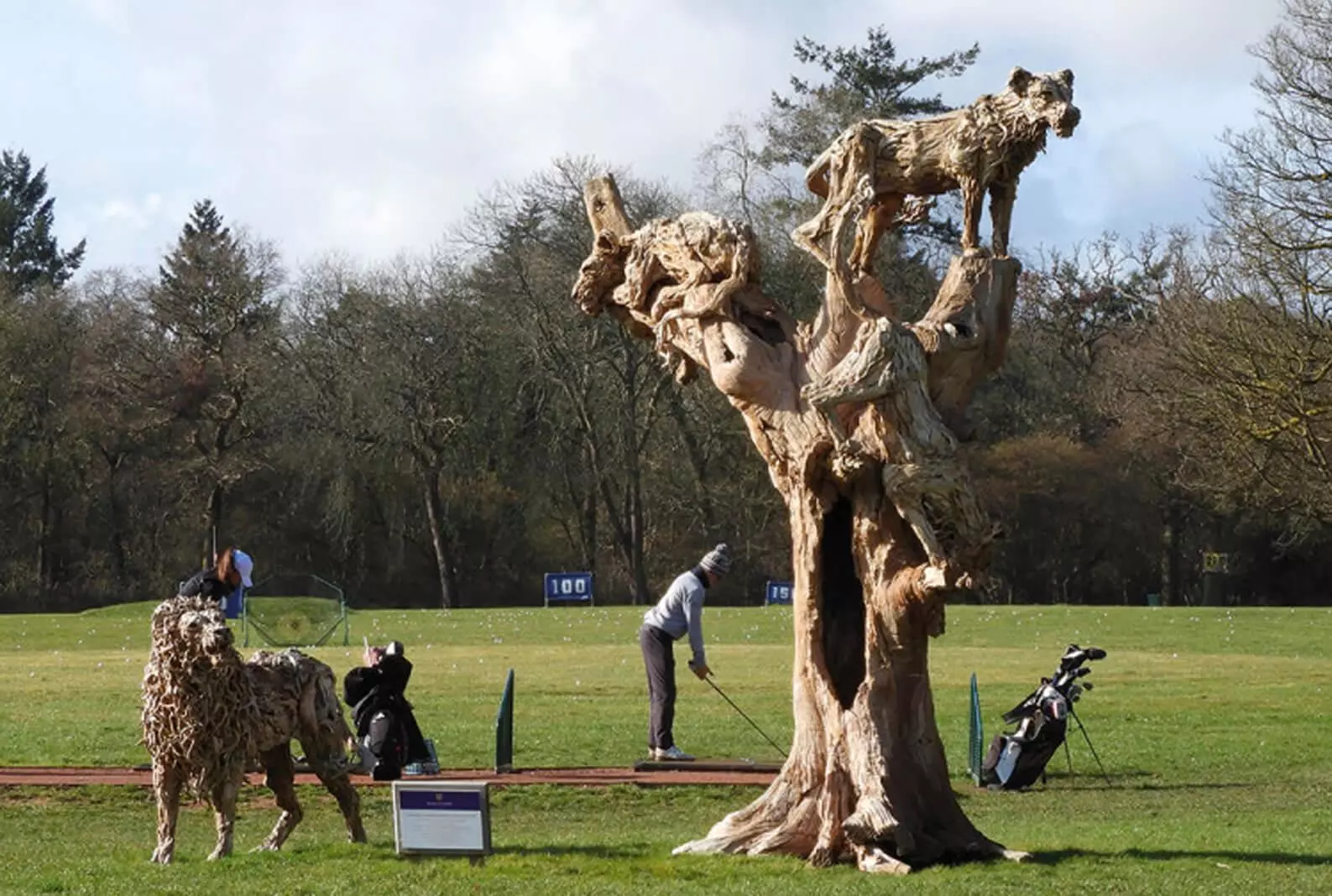 Located outside the beautiful Thames-side town of Marlow, the Harleyford Golf course is one of the most picturesque golf courses within close proximity of London. James installs various sculptures on the greens, delighting the members with new monumental installations every so often! James' iconic Tree Climbing Lions of Lake Manyara is positioned outside the club house.
You can find out more on the Harleyford Golf Course website here.
Enchanted Kingdom's Agila Theatre, Philippines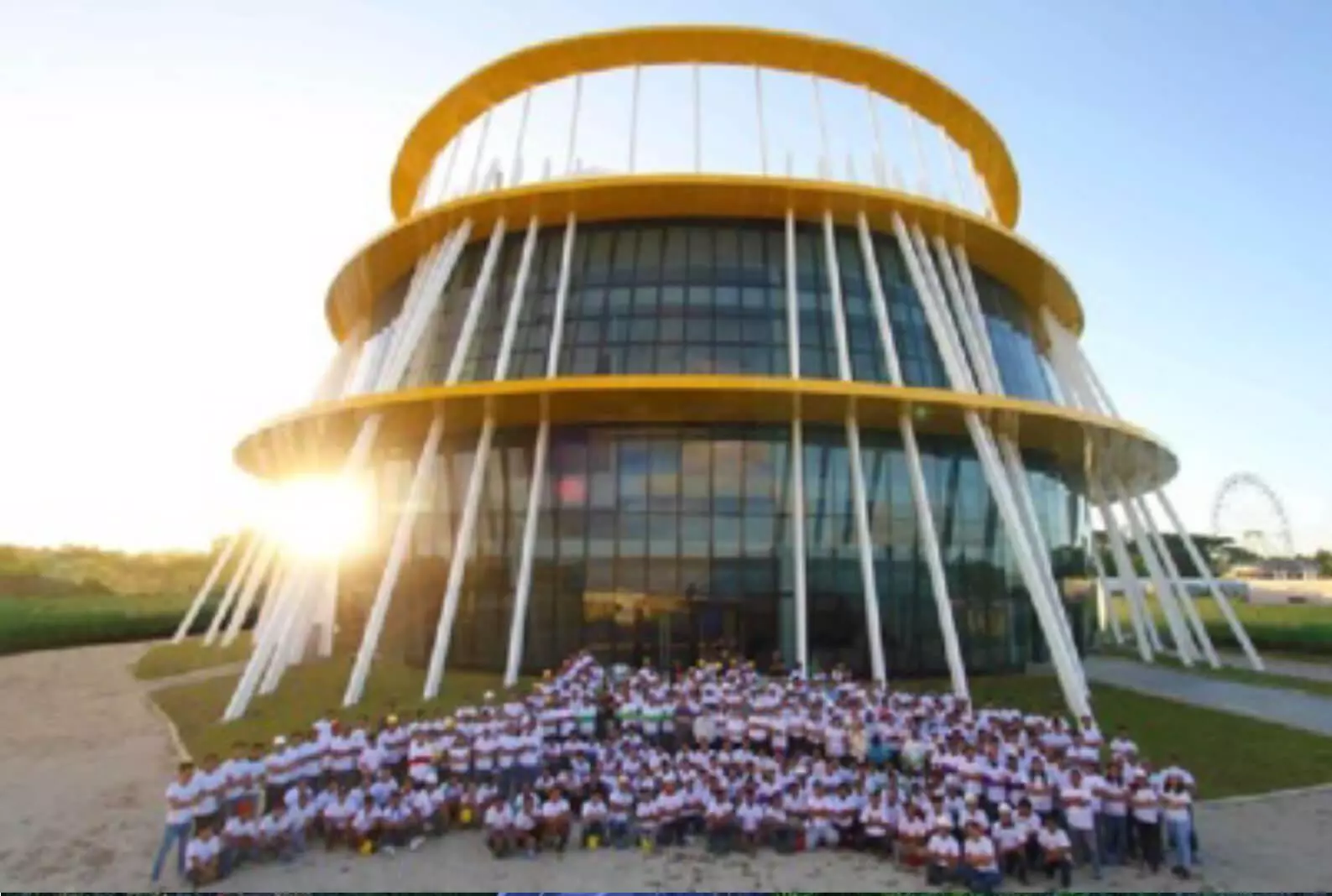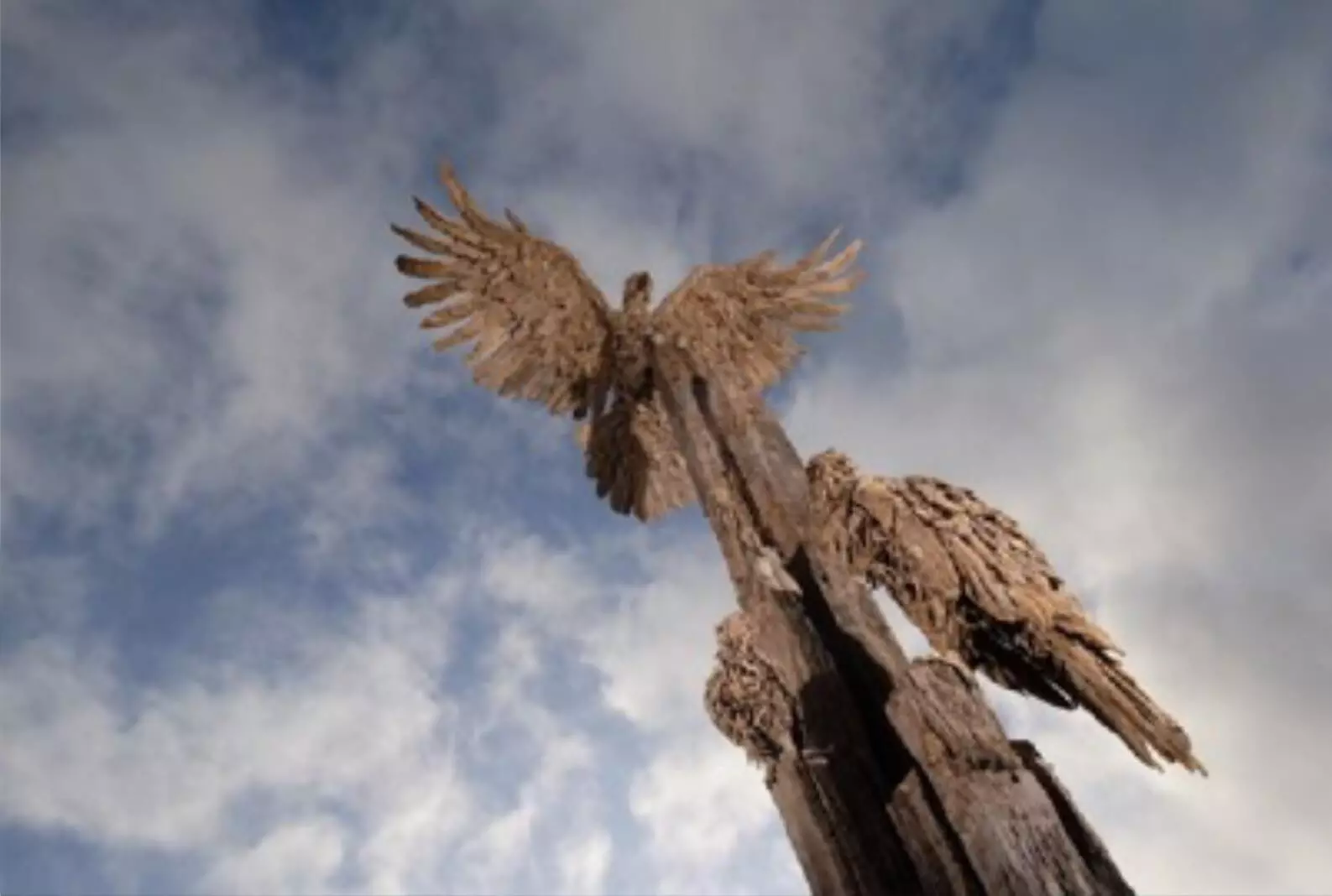 The Agila Theatre was opened in 2017 and was at the time one of the most technically advanced viewer experiences in the world. James was commissioned to make an installation to celebrate the Philippine Eagle. After studying the raptor for over several months, James decided to recreate a family of eagles to celebrate the close bonds that a pair of eagles form and the value this animal places on family which reflects the same in Filipino culture. The sculpture is called Mag-Anak.
Biejing Expo 2019, China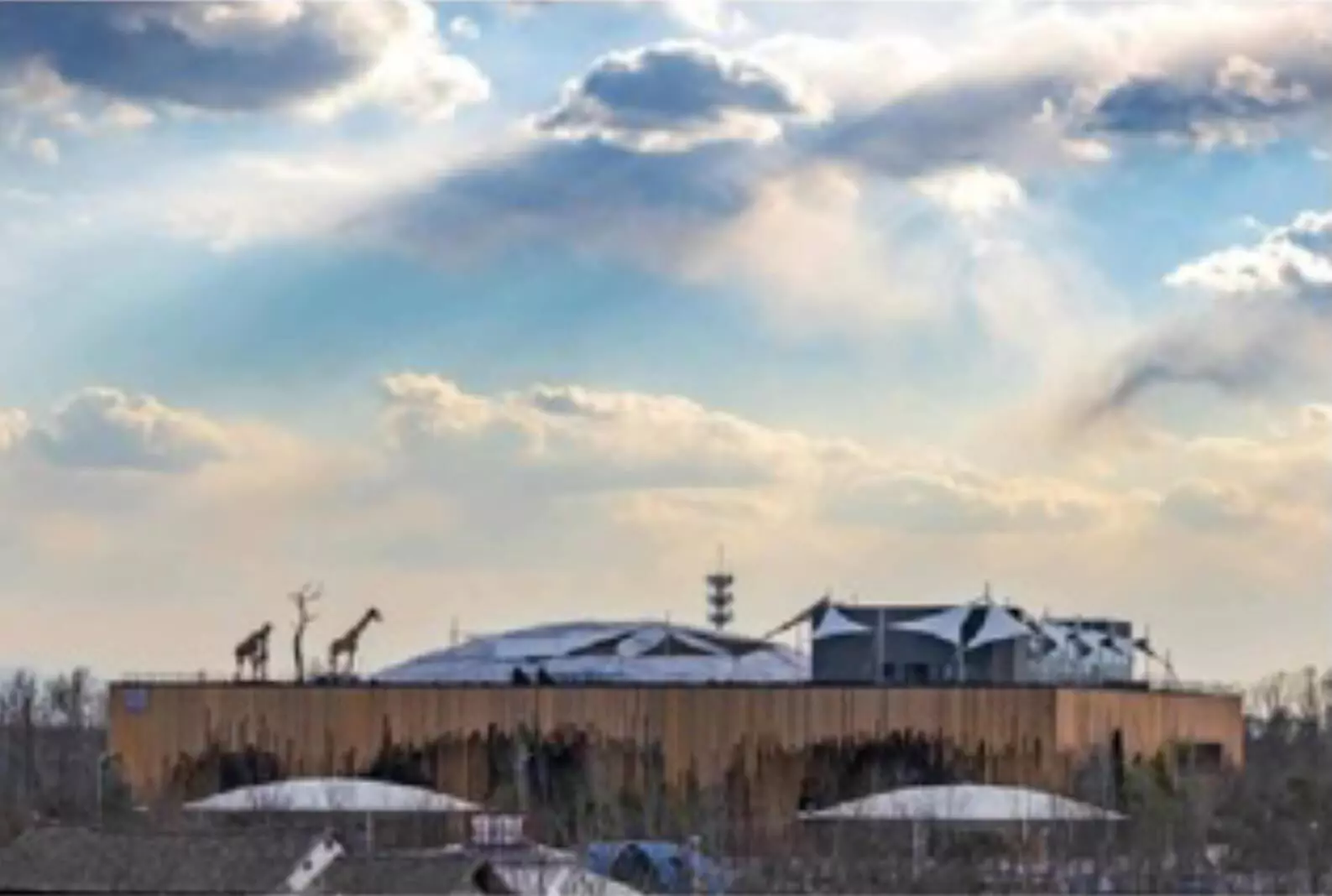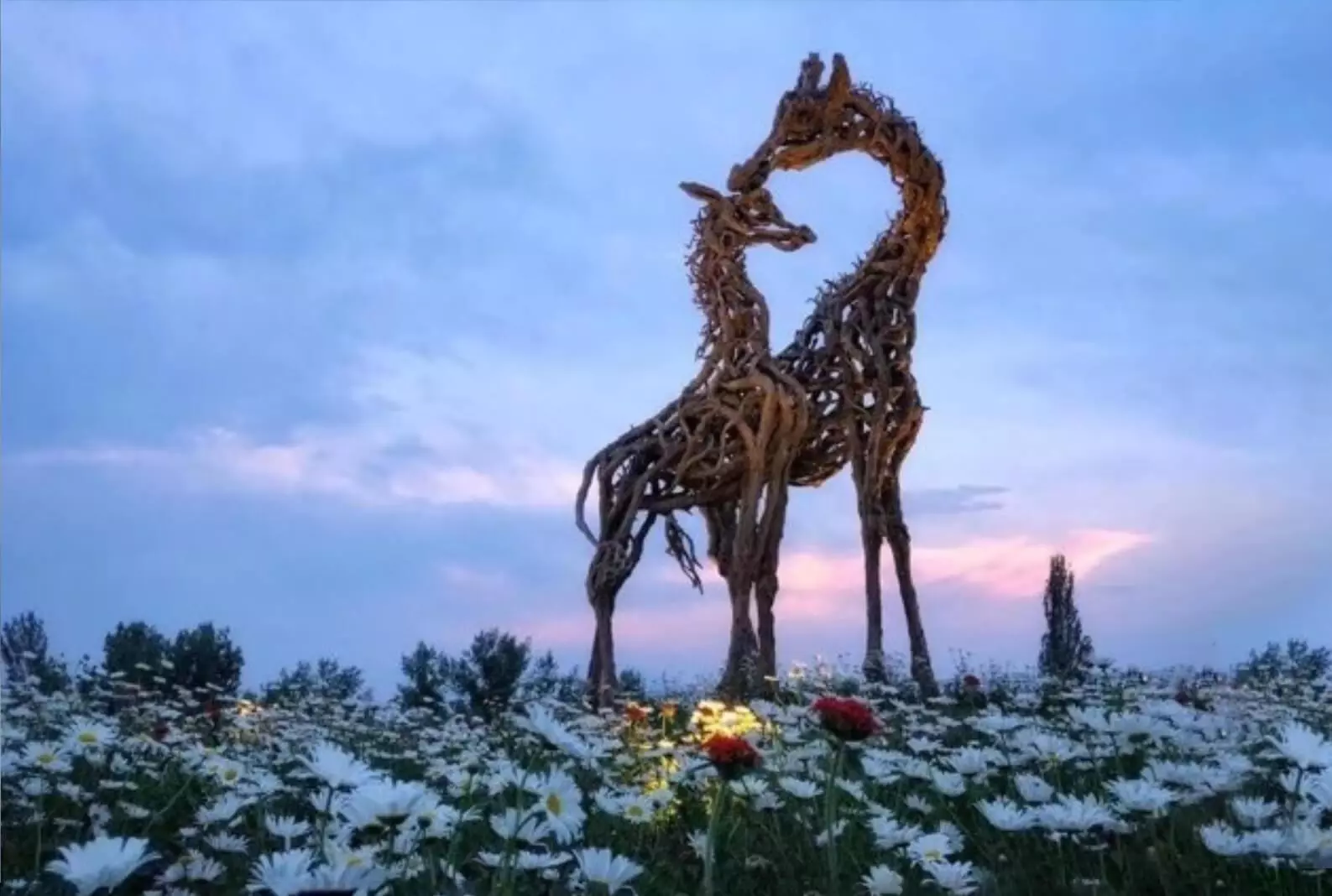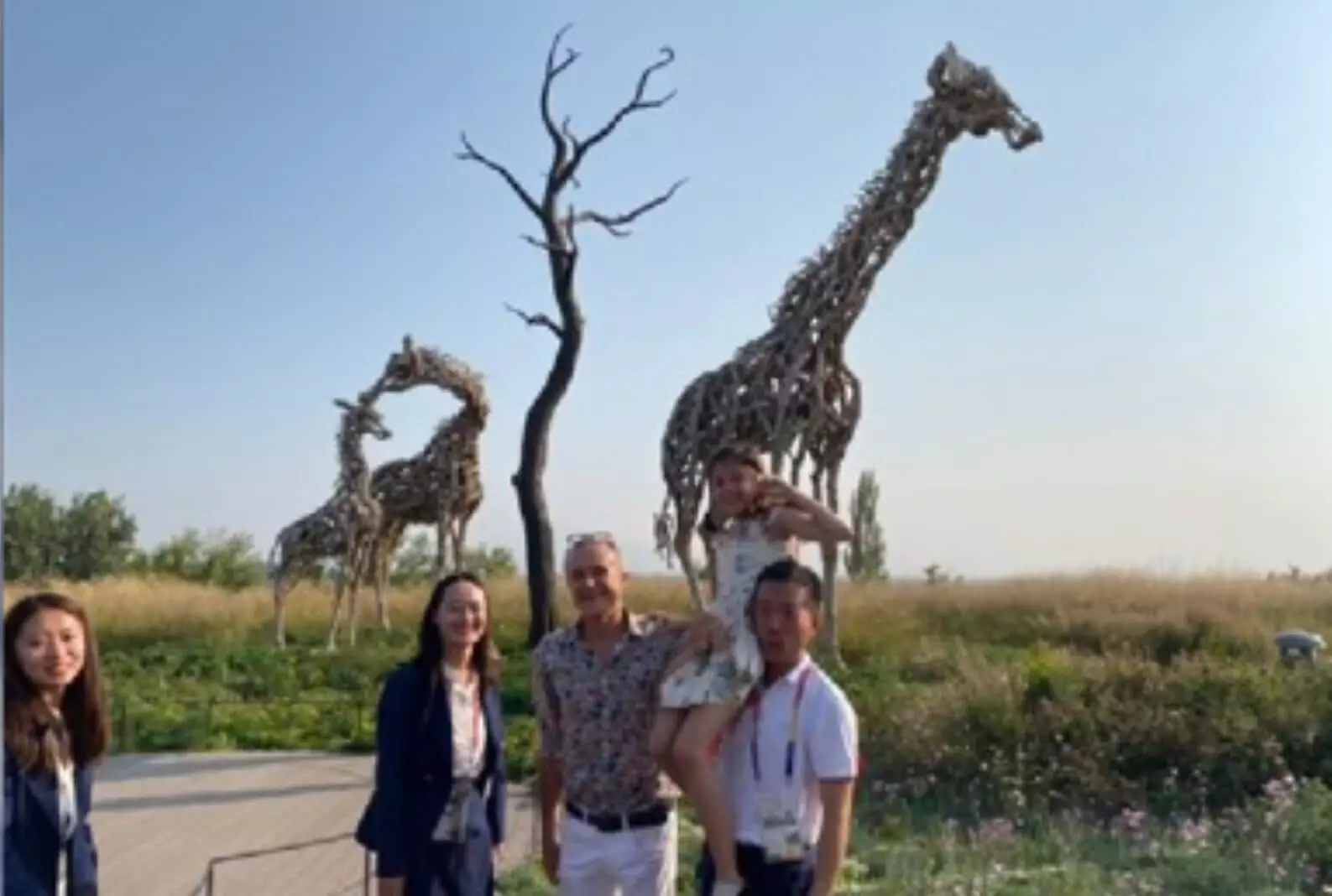 Beijing Expo 2019 was the largest horticultural exhibition held to date. Opening in April 2019, it took over 3 years to organise and build. One of the 4 main pavilions was sponsored by Vanke, the largest domestic developer in China. They selected James among a number of other artists to conceptualise and make a 12m high animal sculpture to install on top of the Botanic garden, a 15m high building in a highly exposed area. Lightning strikes, earthquakes, sub-zero winters and heavy snow storms were all environmental factors that had to be confronted when engineering the sculpture. A Journey of Giraffes, Molly and her family, took over 40,000 man hours to make and weighed some 12 tons upon completion of which 96% was recycled and second life material.
Maayo Hotel, Cebu, Philippines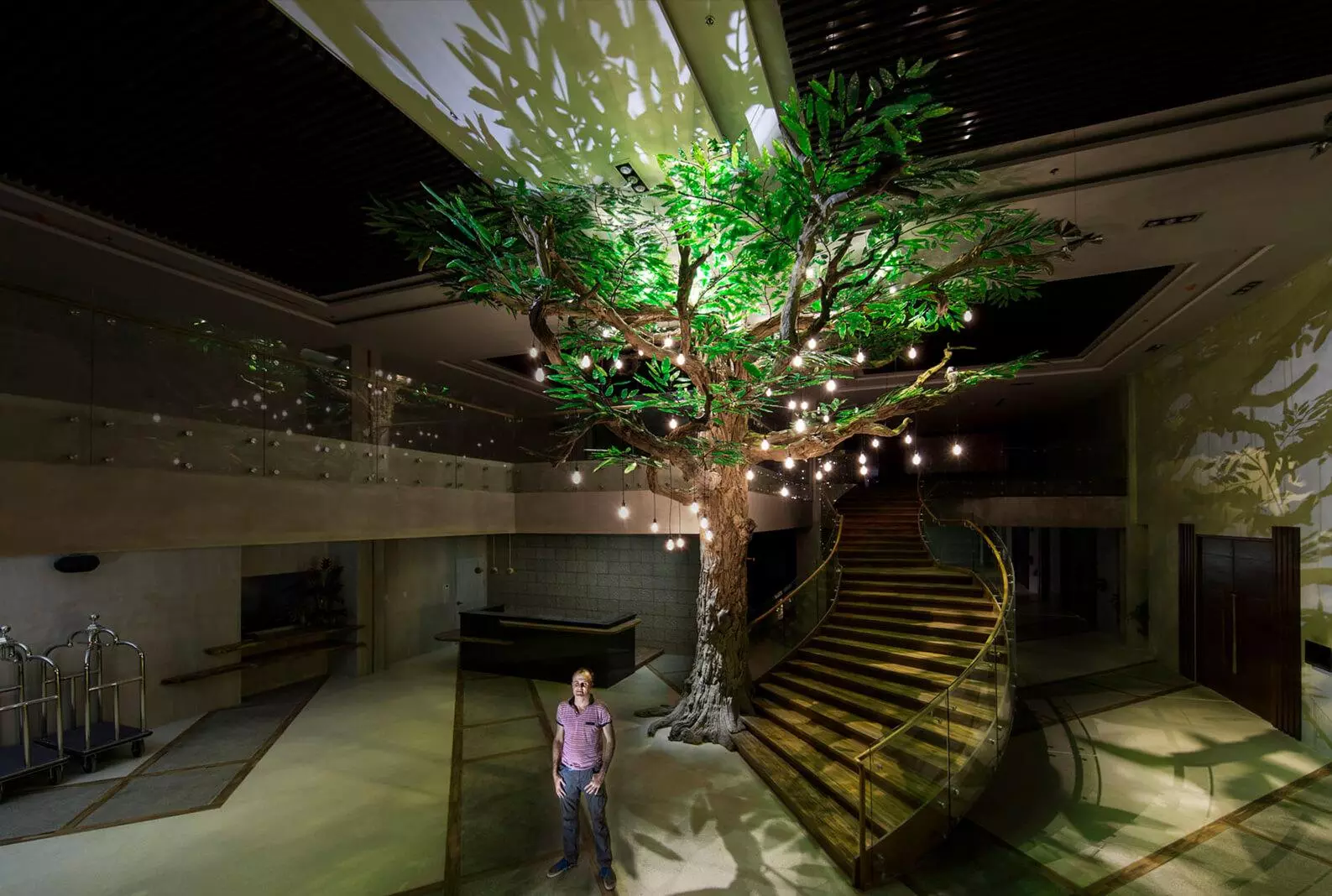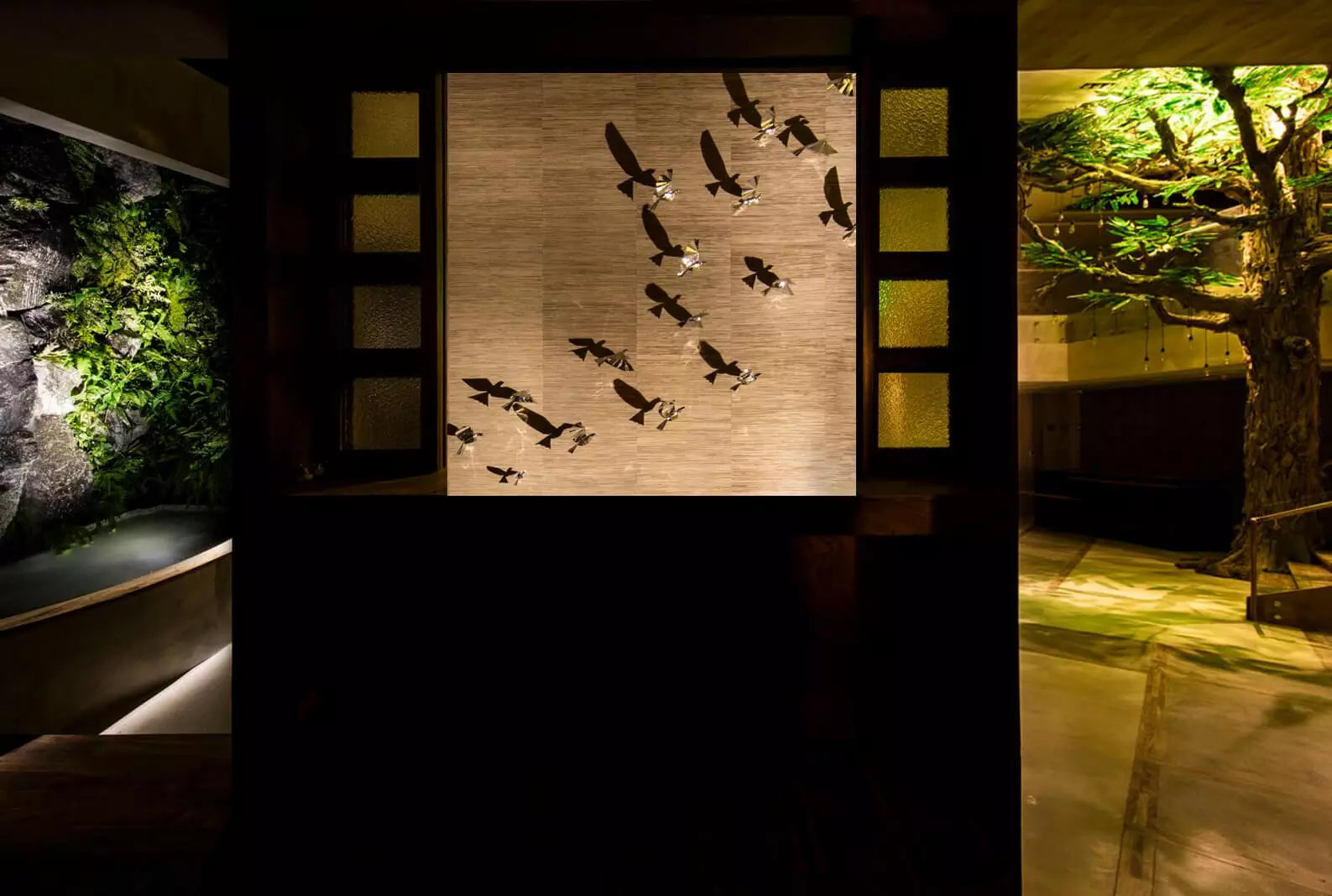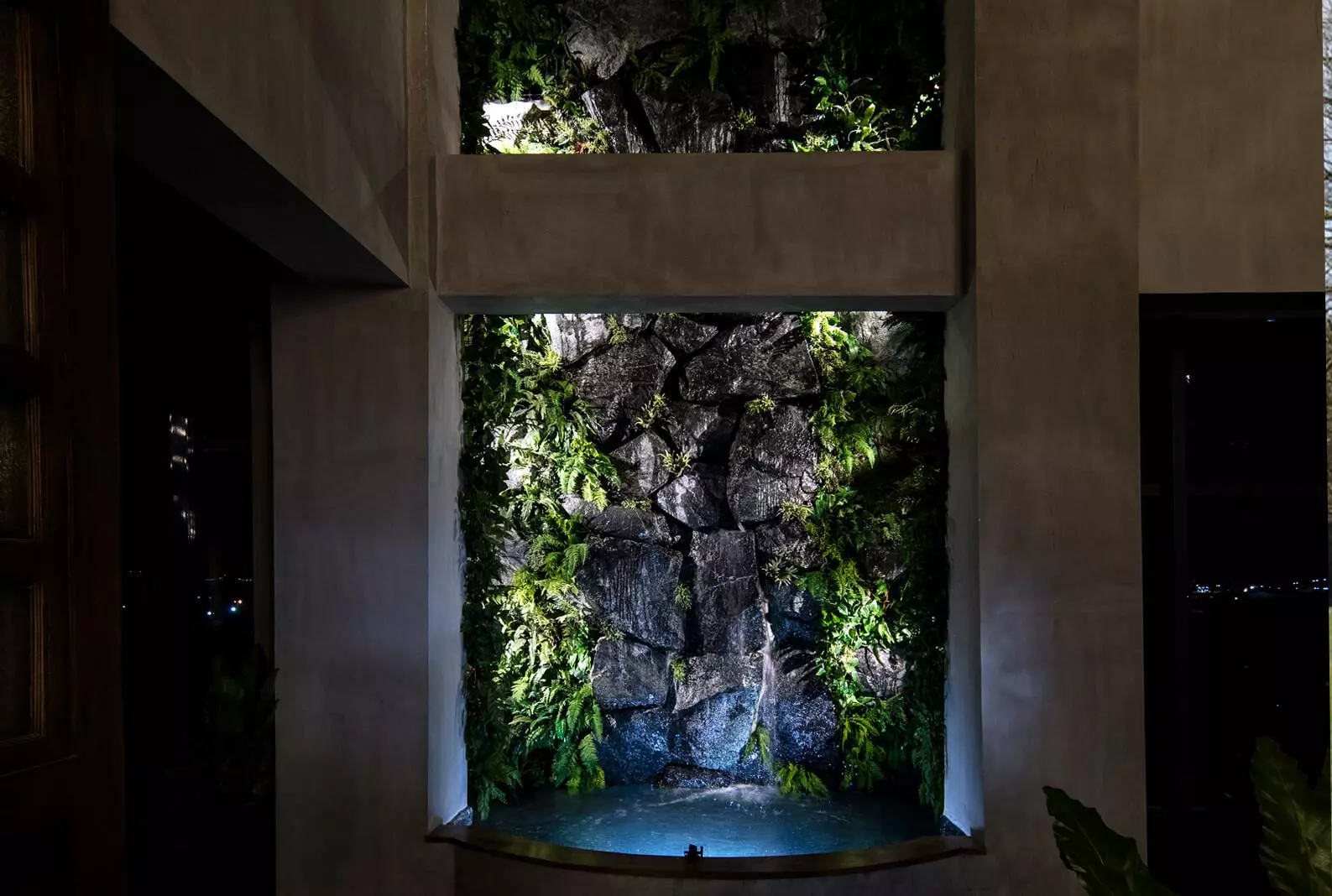 The theme of the hotel is rebirth and sustainability. James deviated from his usual animals to propose a complicated installation that centred around an 8m high 3 ton mango tree installed in the 7th floor lobby of Cebu's iconic Maayo Hotel. He built a natural rock waterfall opposite and attached 30 birds flying from the waterfall towards the tree.
Close House Golf Course, Yorkshire, United Kingdom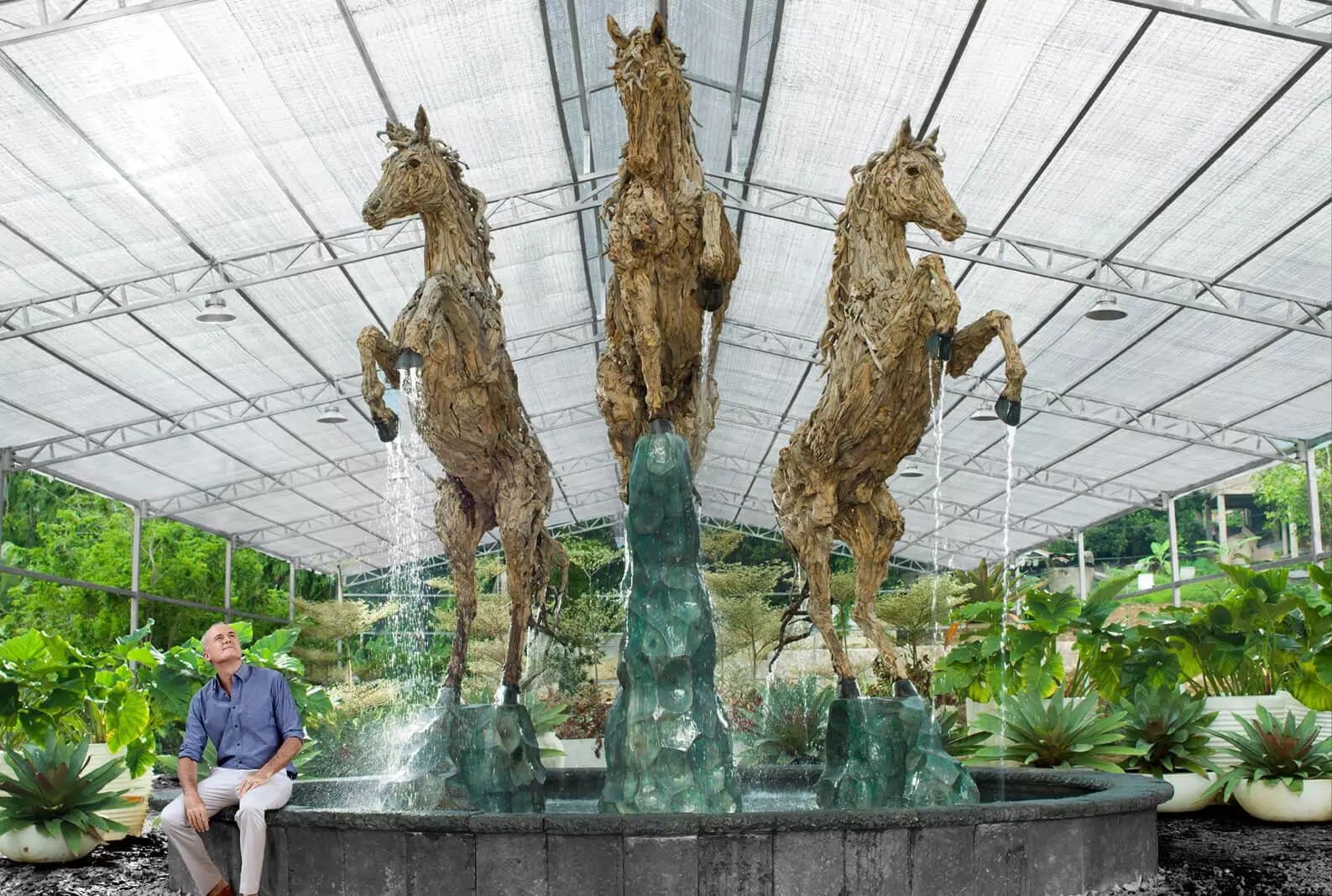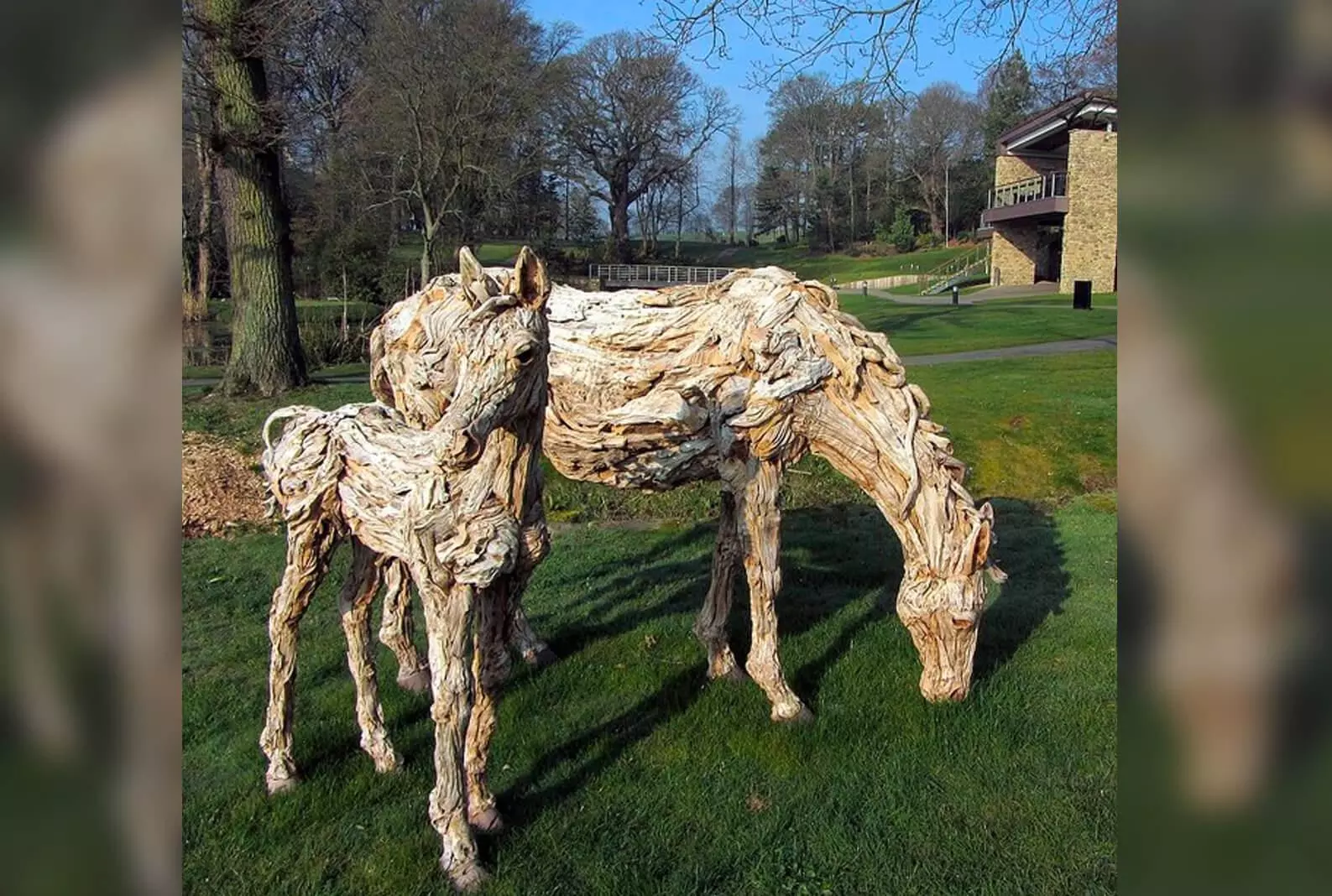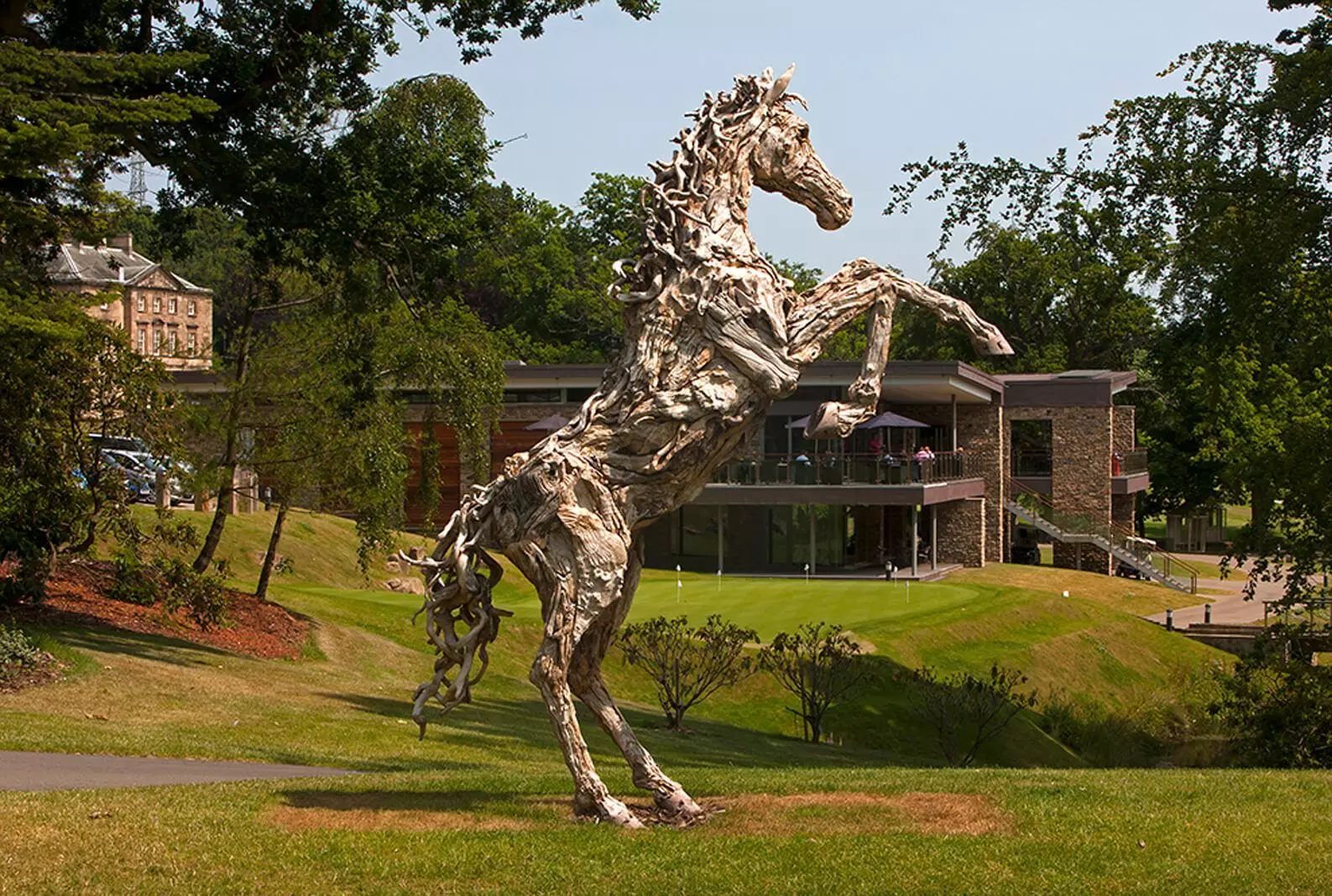 Close House commissioned one of James' first public works, a rearing stallion which still proudly stands guard on the 18th hole. A mare and foal was added to their collection last 2016 and most recently James' iconic "Coming of Age of the Infants of Poseidon" now welcomes visitors to the golf course proudly facing the 19th hole.